Unified Communications
Powered by 3CX and IPNW
Discover the Advantages of a True VoIP IP PBX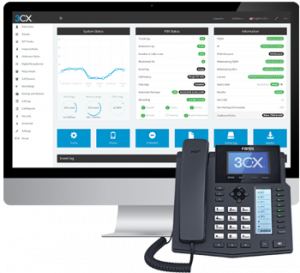 3CX Phone System is an award-winning software-based IP PBX that replaces traditional proprietary hardware PBX. It is based on the SIP standard and supports most popular SIP phones, VoIP Gateways, VoIP service providers and PSTN phone lines. It is easy to manage by system administrators as it integrates well with Windows Network infrastructure.
"We have been very pleased with the overall capability of the 3CX telephone system within our business. With a Windows-based system, we have control over the phones and don't have to pay for support from our old provider." – Brian Dunn, Agilis
The key benefits of the 3CX Phone System:
3CX Phone System can use the existing network and you can do away with phone cables
Easier to install and manage via its web-based management console
Far less expensive than a hardware-based PBX
Allows employees to hot-desk and tele-work
Users can configure their extensions themselves using the self-service user portal, 3CXPhone
Utilize popular SIP phones instead of being locked into one vendor
Receive and make calls via existing phone lines using VoIP Gateways
Save on call costs by using popular SIP / VoIP providers
"Desktop control and unified messaging features have drastically improved team communications – and 3CX delivered these features in an easy and manageable way," said Bill Peters, Head of IT, Caterham F1
3CX Core Features
3CXPhone – Desktop Call Control
Works hand in hand with 3CXPhone for Windows, Android and iPhone – VoIP Softphones and complete deskphone replacements.
3CX Management Console – A Web-based management console for easier phone system administration
Unified Communications – Increase in company productivity
Unlimited extensions
BLF – Set presence and eliminate phone tag
CRM Integration – Launch calls directly from your favourite CRM (Microsoft Outlook, Salesforce.com, Sage Act!, Microsoft Dynamics, Google Contacts, and SugarCRM)
3CX Bridges – Connect branch offices seamlessly
3CX Tunnel – For easy remote connections
Fax server for receiving faxes
Unified Messaging – Receive voice mail and fax via email
Unlimited auto-attendant / digital receptionist
Phone provisioning
Paging and intercom
Call forwarding with advanced rules by caller ID, time and type of call
Call queuing, recording, conferencing
Call park and pickup
Fully integrated web conferencing with 3CX WebMeeting
"3CX was remarkably flexible and easy to install. It was also extremely simple to manage. Being able to run 3CX on Windows Server offers great peace of mind." – IT manager Dustin T. Adam, RE/MAX
The remote working toolbox: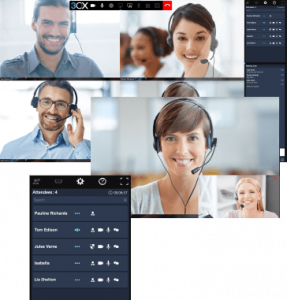 Host instant virtual meetings with partners and employees, enjoying the benefits of face-to-face communication and collaboration. Attendees can join from desktop, web or mobile, allowing you the freedom of calling ad hoc meetings, anytime. Sales teams can deliver powerful presentations for up to 250 attendees simultaneously, despite current travel restrictions.
Easy to use. Clientless. Simply Plugin & download
Integrated with 3CX. Free for up to 25 users
WebRTC technology. High-quality video and voice
Remote control and screen and document sharing
Remote Extensions
With 3CX Android or iOS Apps and the 3CX Web Client, you can literally take your office extension home with you. Answer calls to your office phone extension via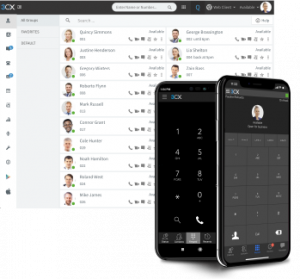 your smartphone device and transfers to colleagues without asking customers to call another number.
Remotely configurable via QR code, hassle-free setup
Automatically reconnect calls while moving between networks, i.e. WiFi and 4G.
End-to-end secure calls via tunnel encryption
Android and iOS apps completely free at no extra add-on costs
Live Chat & Talk
Your customer support team can continue to offer the same level of support your customers expect, from the safety of their homes. With the 3CX Live Chat &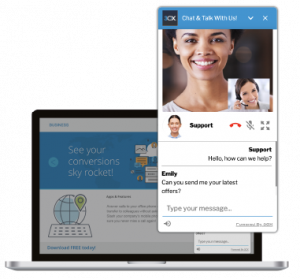 Talk plugin, you can quickly and easily add live chat support, enabling customers to chat with you and call your company in real-time.
Capture your website visitors once they're on your site
Help them find what they're looking for in real-time
Elevate chat to voice or video call – Free of charge
Phone, Video and Chat from one interface